Mopar Performance has released several teaser images for the concepts that it will bring to the event. Mopar—the parts, service, and customer care division for the U.S. brands now under the Stellantis umbrella—provided five shadowy sketches, although its not clear whether the company will create five concepts or if some of the images depict the same vehicle.
Hybrid Wrangler Rubicon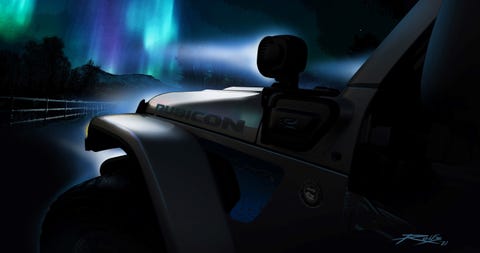 STELLANTIS
The first image shows a Jeep Wrangler Rubicon, and it seems to be the 4xe hybrid variant due to the "e"-branded charging port just behind the "Rubicon" graphic. An auxiliary light can be seen mounted on the hood, and a Jeep Performance Parts badge suggests this 4xe will be decked out with off-road goodies.Ram TRX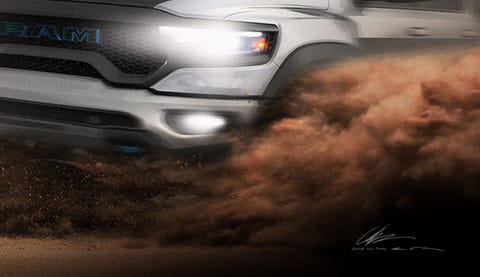 STELLANTIS
The next sketch shows a Ram pickup, and judging by the grille design and vent on the far edge of the headlight, this is the 702-hp Hellcat-powered TRX. It is not immediately clear what will be different about this TRX other than the blue-painted tow hooks and Ram badging.Military-Style Restomod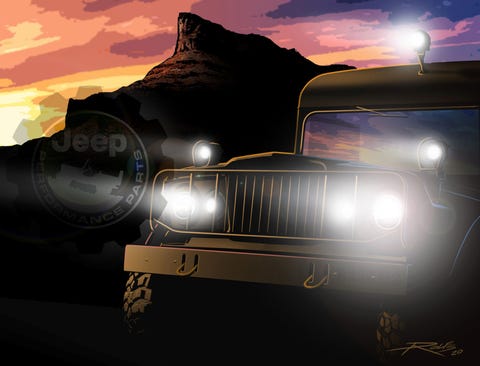 STELLANTIS
Mopar will also be bringing a retro Jeep to SEMA, with this teaser showing a 1960s Jeep Gladiator (although very early Wagoneers shared the narrow grille). This old-school Jeep is painted in a military-style green and is fitted with a grille guard, three spotlights, and a flat bumper with "B33RM3" just barely visible on one side. It could be a restomodded M715 military truck, as that vehicle's front end looks similar to the Gladiator's.Wrangler Overlander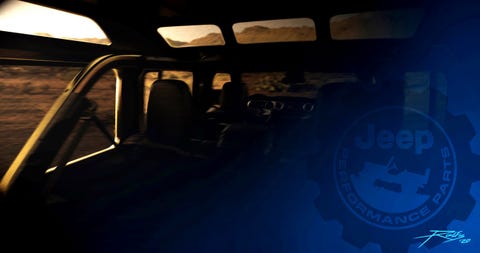 STELLANTIS
Mopar will bring another Jeep Wrangler to SEMA, with this sketch showing an interior shot of a four-door model. This image is very dark, but we can spot a special raised roof with a series of thin windows, suggesting some sort of camping or overlanding-related concept.Ram on a Camping Trip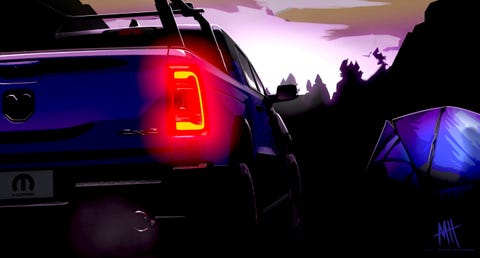 STELLANTIS
The last teaser shows another Ram pickup, this time parked next to a tent and featuring some sort of storage rack in the bed. It isn't clear which model of Ram pickup this is, although it is missing the typical TRX text normally emblazoned on the rear fender, suggesting it is a less powerful version of the 1500.