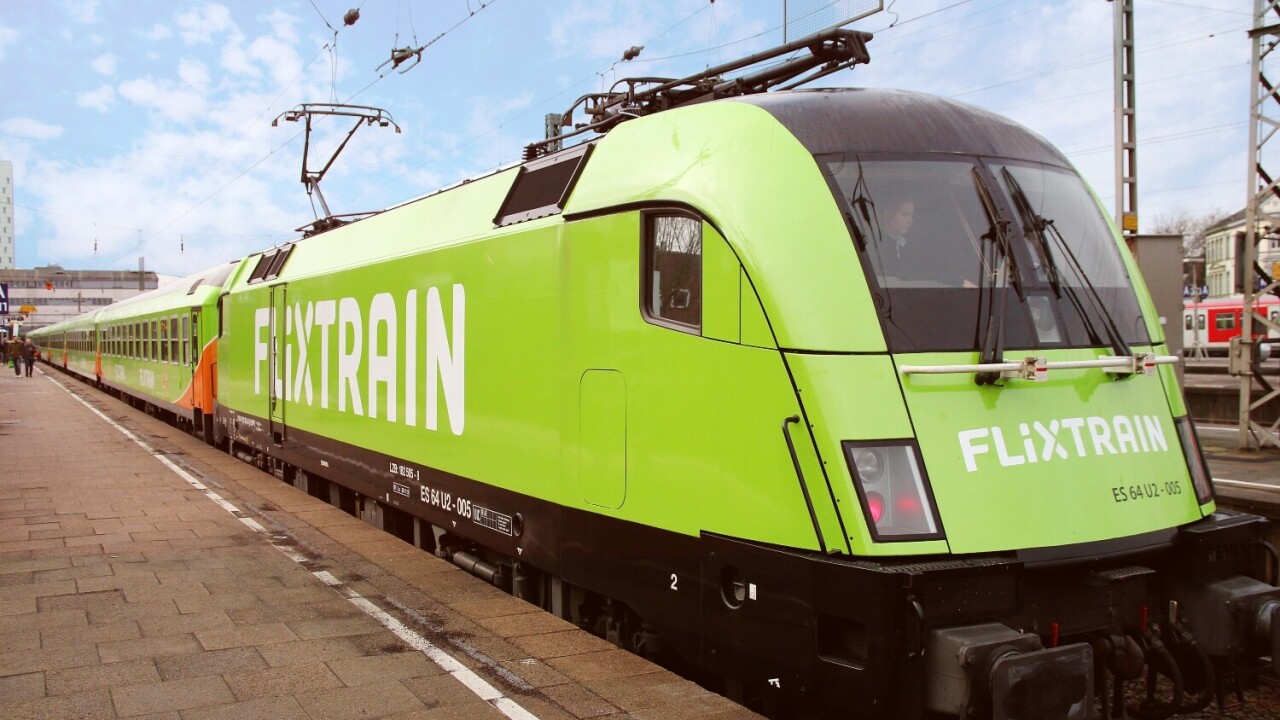 German mobility startup FlixBus is best known for its fleet of big green buses that whisk passengers around mainland Europe at affordable prices — akin to Greyhound in the US. 
But there is also a rail-bound version of FlixBus dubbed, you guessed it, FlixTrain. The service began operations in 2018, following the opening of German rail lines to private competition five years earlier.
By mid-2022, the company serviced over 70 stations along many of Germany's main rail routes. Flix also recently expanded its train network to Sweden.
Now, FlixTrain has its sights set on expanding into the Netherlands. This week, Flix notified the Dutch Consumer and Market Authority (ACM) of its intentions and applied for track capacity at ProRail — essentially asking for permission to run its trains on Dutch lines. 
The company is targeting a start date of November 10, 2024, for an open-access connection from Rotterdam to Oberhausen, Germany. The train will also stop at Arnhem, Utrecht, Amsterdam, and The Hague, according to FlixTrain's application to the ACM. 
The applied-for route covers two train pairs per day, with around 500 to 700 seats per train, depending on the season (longer trains will be used in summer than in winter).  
FlixTrain is an open-access operator meaning that the company takes full commercial risk, operates on infrastructure owned by a third party, and buys access to chosen routes. This differs from state-owned enterprises like Deutsche Bahn (DB) in Germany and Nederlandse Spoorwegen (NS) in the Netherlands which own and operate much of the key infrastructure themselves.     
FlixTrain has become the main competitor to DB in recent years, partly thanks to its comparatively low fares. The company is often 50% cheaper than DB, with a ticket from Cologne to Berlin costing as little as €9 compared to around €45 from the national provider. 
They can offer such low fares because their rolling stock is essentially made up of old DB trains painted green. FlixTrain is also assumably being propped up by its more profitable sister company FlixBus, as it attempts to grow its share of the private rail market. However, it is to be noted that DB still has a 97% market share in Germany.  
Competing with NS won't be easy either. Despite the fact that the Netherlands opened up its rail network to private competition in 2019, NS still has a monopoly on the rail network and benefits from generous concessions and government subsidies. 
While FlixTrain would like to operate across Europe in the future, according to Arthur Kamminga, an expert on legal affairs and public affairs at Flix, concessions like the one afforded to NS present a major hurdle. "When you are competing with someone who gets a subsidy and priority on capacity —  there is, by definition, no level playing field," he told industry publication RailTech.
Kamminga is also a representative of AllRail, a lobby group campaigning for the introduction of 'fair competition' in Europe's rail market. According to the group, Europe's rail sector must become more competitive in order to encourage innovation, lower prices, and 'create a more attractive low carbon transport option.'        
For now, FlixTrain's application sits with ProRail, who will decide if the private train operator can share the tracks with NS.
Get the TNW newsletter
Get the most important tech news in your inbox each week.