Arthur, an immersive virtual collaboration platform for enterprise, has recently rolled out its first major set of updates since its "Pro" version launched in 2021. The update brings solutions that are helpful in the platform but that VR in general has needed for a long time.
To learn more about the platform's growth in the space and the technology coming of age in the enterprise sector, I met in the platform with Arthur Business Development Consultant Lakshman Lattipally. We also showed off our full-body avatars and explored the platform's many features both old and new.
The Road So Far
Arthur was founded in 2016 but became publicly available in 2020. The platform rolled out its first major updates the following year, which is when ARPost first introduced our readers to the platform. At the time, the company was largely presented as a "virtual real estate company" before that language was adopted by consumer applications in the NFT space.
"We see ourselves as a virtual real estate company. We just provide the office," Demand Manager Simon Berger told ARPost at the time.
At the time, the company seemed to be doing a new thing – just like everyone else. The main distinguishing feature between Arthur and other solutions in what has since been dubbed "the officeverse" were the avatars featuring a photo-realistic face on a poorly-matched and semi-corporeal frame.
Later that year, the platform's professional version came out of beta. This version introduced more hosting tools, larger capacity spaces, screen sharing, and other productivity features, and – perhaps the largest differentiator – end-to-end session encryption. The free version still works and you can use it to explore the platform. You can also request a demo of the Pro version.
Recent Improvements
Some of Arthur's most recent updates are completely new tools, while others are developments building on the platform's existing tools and features. In either case, all of the updates are great advancements.
New Access Options
Arthur has long had desktop access – a website and an app. The website is a sort of back-end way to manage assets for and from the VR version, similar to an AltspaceVR profile. The app offered many of the conveniences of the website and some of the accessibility of the VR version, similar to the desktop version of ENGAGE.
This update brings an option for users to join virtual environments entirely via browser. There are pros and cons to a browser-based virtual collaboration space over an app. For example, the browser interface allows users to use the platform when they're away from an office computer with the app installed. But, web users can't join app sessions. At least, not directly.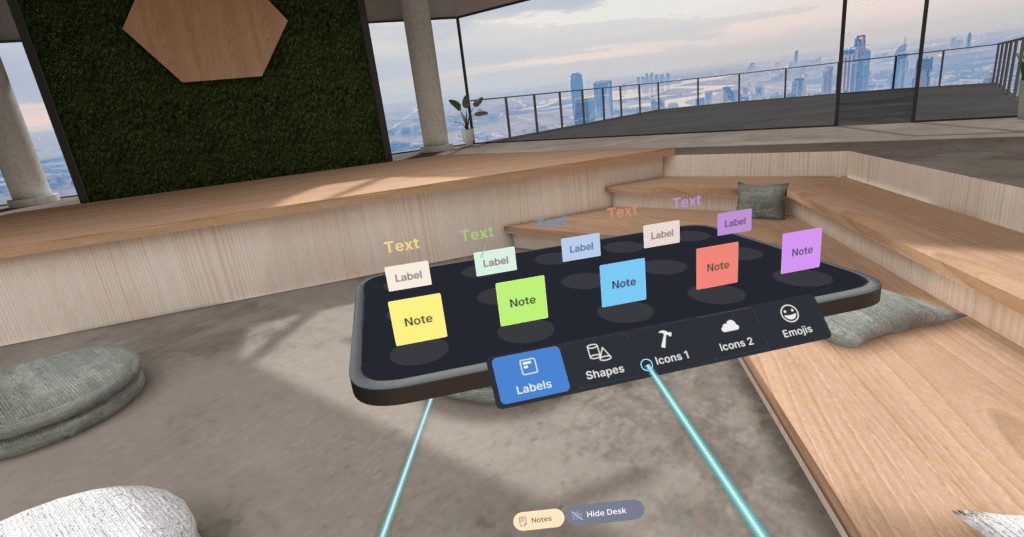 One of the big updates that Lattipally showed me was the ability of a VR user to open an Arthur browser window and screen share it with VR users creating an entirely virtual version of a hybrid meeting. The solution was a little disorienting but entirely practical.
Of course, that browser window can be used for other things as well. While the pinboard and note features already provided on the platform can be used to create things like workflows and project management boards, your favorite dedicated tools can exist in-world through browser windows or in some cases through direct app integrations.
Display Updates
After all of the shade thrown on earlier iterations of avatars, they really have gotten a lot better in this most recent update. The avatar creation process still starts with a photograph, but that photograph is better mapped onto a better-proportioned head on a full body – complete with arms and legs. The more responsive faces are even compatible with eye tracking if you've got it.
My favorite update overall might be the MR desk – a feature that I've long wanted in every VR productivity app ever. The tool allows you to draw in your physical desktop to appear in your VR space. This process is similar to when you first set up the Quest's seated play space. However, the desktop isn't just an opaque rectangle, it's a passthrough window to your actual desk.
Other users can't see this desk, but you can turn it on and off when you need (or don't need) to access your computer, notes, or anything else in the physical world while in VR. The obvious downside is that this feature is only as useful as your available passthrough. If you have a Quest 2 (review), this isn't great. But, if you're rocking a Quest Pro (info), word is it's a lot better.
Everything Else Is Still Good
A lot of the quality features that Arthur had before are largely unchanged, and that's okay. Spaces are still beautiful and easy to set up, complete with private audio zones. The larger main menu is still powerful and navigable, but the smaller menus for things like the notes feature and some basic in-world assets are even easier to use.
And, maybe this is just me, but I'm a big fan of the desktop user back-end. Taking screenshots in VR is a simple operation and those screenshots are easily accessible from the web profile. Further, user support is great if you need a helping hand.
The New and Improved Arthur
Arthur is holding its own in the developing world of enterprise VR solutions and remains one of the best offerings that I've seen in the space.
One of the most enlightening parts of my time in the platform with Lattipally was his stance on the maturity of the space as he says companies are moving from presence to productivity to complete virtual work environments. And Arthur is rising to that challenge.